Using AccuQuilt for Designer Quilt Patterns
Have you seen the AccuQuilt fabric cutting system and wondered if you'd still be able to make the quilts from your favorite quilt pattern designers? With some creativity and a little math, you definitely CAN use your AccuQuilt die cut machine to make nearly any designer quilt pattern! I am here to teach you exactly how you can convert a designer quilt pattern into an AccuQuilt pattern, and I'll show you how I made the Indian Summer quilt by @suzyquilts using my AccuQuilt Go!  as the example. I used my AccuQuilt Go! to cut out all the fabrics and save a ton of time in the process!
You can download the baby size pattern of this quilt for FREE here, or if you are feeling more ambitious, you can snag the throw version of the pattern in Suzy's shop. I wrote these instructions with the baby version in mind, but by the end of this post you should feel comfortable and confident in your abilities to make the throw work for you as well!The most important thing to go through first are your necessities. Regardless of what quilt pattern you are trying to convert to use on your AccuQuilt fabric cutting machine, you'll want to read through the entire quilt pattern to see what sizes and shapes are used. Many common designer quilt patterns use half square triangles (like Indian Summer!) or other shapes that can be found in traditional quilt blocks.
For the Indian Summer quilt pattern, here is what to use:
AccuQuilt Dies needed:
Fabric (follow the pattern instructions; I added an extra 1/2 yard of background fabric)
The fabrics I used are all solids from Paint Brush Studios, here are the colors on mine: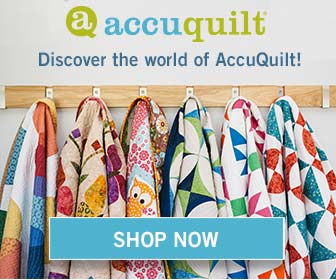 Once you have gathered the cutting supplies and fabrics, you can get started by cutting the pieces for your background fabric. The pattern shows that you will need 1.5 yards of background fabric (White on mine). I personally bumped it up to 2 yards, and I'd suggest you do the same if you plan on cutting all your pieces on the AccuQuilt. With this fabric, you'll need to use your AccuQuilt die cutter to cut out pieces using the 3 1/2 inch half square triangle, 3 1/2 inch square, and also 3 1/2 6 1/2 rectangle. Here is how many you will need of each, along with the die number if you are using the 12″ Qube like I did.
120 – Half Square Triangles (60 sets) – die #2
36 – 3 1/2 inch Squares – die # 5
14 – 3 1/2 x 6 1/2 Rectangles – die #8
5 – 3 1/2 x 12 1/2 rectangles – can be done with the 3 1/2 inch strip or simply cut with rulers/rotary cutter
Once your background fabrics are all cut, we can move onto your 8 colors. These are ALL using the half square triangle die (#2 in the 12″ Qube set)
Color 1: 32 – Half Square Triangles (16 sets)
Color 2: 16 – Half Square Triangles (8 sets)
Color 3: 8 – Half Square Triangles (4 sets)
Color 4: 16 – Half Square Triangles (8 sets)
Color 5: 8 – Half Square Triangles (4 sets)
Color 6: 8 – Half Square Triangles (4 sets)
Color 7: 16 – Half Square Triangles (8 sets)
Color 8: 16 – Half Square Triangles (8 sets)
Some people like to save cutting the binding for when the quilt top is completely pieced, but personally I prefer to make it first. For this baby size quilt you will need 5 WOF strips at your desired width. I always do 2 1/2 inches but many quilters do 2 1/4.
Now that all your fabric is cut out you are ready to start sewing. For every colored piece of fabric, you will pair it up with a background piece and sew along the diagonal. Be careful not to stretch the fabrics as they feed through your machine, as they are on the bias. Sew your best quarter inch seam and press towards the dark side.
For a comprehensive guide to making Perfect HST quilt blocks, check out this blog post.
My personal least favorite part of quilting is squaring up half square triangles, so I am pleased to announce that squaring up your blocks is entirely not necessary when using the AccuQuilt Go! These perfect points easily come together without ever having to square-up or trim your blocks!!
Once all your pieces are ready, follow the diagram in the pattern to arrange them, sew the pieces together and finish your quilt top! This modern baby quilt comes together pretty quickly!
After your quilt top is pieced, you'll baste, quilt, and bind as desired. My basting method of choice is Spray Basting. Click here to read about different basting methods and compare different spray adhesive products!
Never miss a post! Be sure to subscribe to the blog and follow @homemadeemilyjane on Instagram.
Want more project inspiration? Check out these popular posts: