How to Learn the BASICS of Crochet
Want to learn about yarn crafts like knitting and crochet, but so overwhelmed by the complexity of it all?
What is the difference between knitting and crochet?
How do I understand what yarn to get?
Why are there so many different size crochet hooks?
How do you read a crochet pattern?
Well, I was thinking all these same questions not too long ago! I just spent a ton of time researching and diving in and I am here to tell you about what I have learned!
First off, thank you for following along in this creative journey that I'm on. If you've been hanging out with me in this online space for a while, you probably know that this whole crochet bug is super new for me! Most of my experience is in sewing and quilting, but recently I've just been very inspired by the amazing textures people have been making with crochet and I've been so desperately wanting to try to learn for myself! If you're intrigued by the designs but crochet still has you scratching your head, let's jump into this together and experiment until we find what we like!
The True Beginning
I must confess, my experience in the yarn craft hobbies actually began years ago – before I ever started quilting, even! When I was just a young teenager I used a knitting loom to make a few things like hats and scarfs! I actually made hats for my entire swim team and then never used the knitting loom again… Anyway, I even started to learn to knit with real knitting needles while I was in college but never really stuck with it or made anything other than a simple ear warmer headband (which I wore exactly one time).
The Basics of Crochet
I like to think of crochet as a very complex knot that you tie with the help of a crochet hook. What you end up making will be determined by a wide variety of factors including what material yarn you pick, which stitches you use, and what size your yarn/hook is!
When I first started getting the desire to learn, it was mostly due to seeing some really amazing projects on Instagram and Pinterest and sincerely wondering how on EARTH it was even possible. I immediately started searching for patterns so I could read how to make them and very quickly found out they are in a different language and it was all Greek to me! If you've had this experience as well and need a little help deciphering, we will definitely get to that! But before we dive into pattern interpretation, let's learn the basics of the supplies needed for Crochet.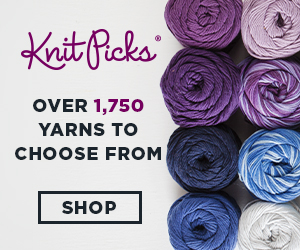 Crochet vs. Knitting
The major difference between crochet and knitting is the tools you'd use. While both crafts use yarn, crochet uses a hook and knitting uses needles (which can be confusing because knitting needles are very different from sewing needles!). Both knitting and crochet involves creating fun textures and patterns with yarn! I suggest trying out both techniques to see which you prefer more! I'm starting with crochet because it seemed easier to me but I could be wrong about that.
Crochet Supplies 101
So you decide you want to learn to crochet & you find a quick tutorial and they tell you to get a hook and some yarn, then you go to your local craft store and see a whole aisle full of hooks, needles, pins, and crazy round things and you have no idea which is what you need, so you walk over to the yarn and see there's a whole section full of it! It can quickly become overwhelming, so just stay with me and we will learn how to pick the right yarn for your project.
When it comes to yarn, there are many many different varieties. Yarn can come wound up in a ball or a skein, or can come in a "hank" which will need to be wound into a ball in order to keep it from tangling while you are working. (I got a swift and ball winder for that part!) Yarn also comes in a bunch of different substrates. The most popular, most cost-effective, and best for beginners is acrylic yarn, but I personally prefer a blend like this one! I went around touched & felt just about. Every. Single. Ball of yarn at my local craft store before I finally settled on a blend of acrylic, wool, and nylon. It's soft but still very easy to work with. I got the Caron pantone in raven in case you're interested in using the same one I used for practice swatches!
Reading the Yarn Label
Yarn can come in many different sizes, or weights, and there is actually a handy little scale for it. Size groups range from 1 to 7, 1 being the smallest or thinnest, and 7 being jumbo. Some of the yarn at the craft store will likely be more like thread, in fact, many people crochet with the same type of Perle Cotton that I've used in the past for my hand quilting! The most common yarn size for a beginner is about mid-range or bulkier. Look for one that says a 4 or larger to start off with, as it will really help you to see your stitches clearly as you learn.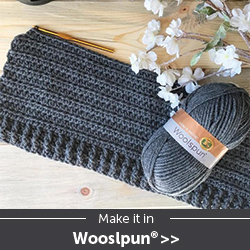 You'll actually want to look on your yarn to see what size hook is best for that weight of yard, because the next thing to do is pick out the crochet hook you will use with it. The yarn package labels will give a suggested size of needle/hook for that weight of yarn. This is not a hard & fast rule to follow, but more of a guide to help you succeed. Since you are just getting started, I suggest getting a multi-pack of different hook sizes so you have some flexibility and options!
Getting Started with Crochet
Now that you have all your supplies, it is time to get started! You'll want to start by learning the basic stitches of crochet: the slip stitch, the single crochet, the double crochet, and maybe also the half double crochet. (There are many many more stitches, but these are the BASICS just to get you started!)
When it comes to learning different stitches and techniques, I highly suggest finding a method of learning that works best for you! I personally used a combination of books and videos to get the best understanding of the basic stitches. There are a couple amazing online go-at-your-own-pace crochet classes out there too – Annie's Creative Studio offers a few and I have heard great recommendations for the classes offered here on Bluprint!
Once you have practiced a few different stitches, go ahead and find a project to start on! I highly recommend dish towels made with 100% cotton yarn, or maybe even some ear warmers or a scarf if you are feeling ambitions! You can find TONS of free patterns at some of these awesome sites:
Remember, the most important thing is to HAVE FUN! I can't wait to see what you end up making!
Want more crochet related blog posts? Check these out: