FREE Quilt Pattern: Vintage Camping
Who loves a great free quilt pattern? I know I sure do! Right now I am going to deliver to you all a FREE beginner-friendly, accuquilt-friendly, throw size quilt pattern!
This FREE quilt pattern uses 12 traditional Churn Dash blocks and adds a border around all the sides, and the large scale of the blocks makes it great for any large-scale prints you want to show off!
This pattern was designed specifically to showcase the Vintage Camping fabric collection by Crissy Rodda! I fell in love with the whimsical mountains, bears, campers, and deer in the prints, and truly wanted to feature them in a classic, traditional quilt design to match the vintage feel.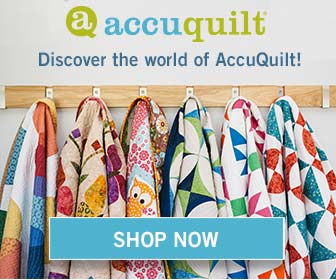 To compliment the fun classic prints from the collection, I also decided to add in some solids. My version features Guacamole, Verbena, Sky, and Bisque along with the Rice Paper background. All the fabric requirements are listed in the PDF download and you can purchase them HERE.
If you want to use the exact solids I used, I suggest purchasing from Pineapple Fabrics! Here are the links to purchase: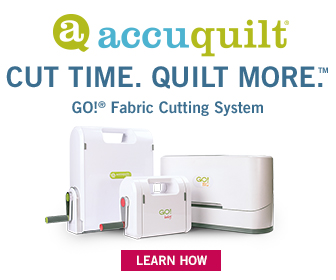 The Vintage Camping quilt pattern is already beginner friendly, but if you want to make this pattern Accu-Quilt friendly, you do need to make a few tweaks:
WAIT. Did you catch that? You can use your 12″ Qube to make 18″ Quilt Blocks!
To cut fabrics with your AccuQuilt Qube, you can use die 1 for the center of each block, die 3 for the half square triangles (unit 1 in the pattern), and die 8 for the rectangles (unit 2 in the pattern).
When using the AccuQuilt, it is always super great to get the most bang for your buck when it comes to the wide variety of dies available. That alone is why I have such a huge love for the Qube Mix and Match sets. I've always felt like there really are endless possibilities! And now there are even more options too if you use certain dies to make larger blocks.

Next time you look at getting more accuquilt dies, I hope you start to think what ELSE you can do with them!
I should note you can also use the Block on Board die for the Churn Dash Block to make this pattern as well. There is also a very cool die bundle that will get you similar results. Both of these options will result in 12" finished Churn dash blocks.
If you do not already have the 12″ Qube but have a different size Qube or the other dies recommended above, I suggest you try that out! You may need to make more blocks to get the quilt to the size you want and it may alter the fabric requirements a bit, so be sure to calculate before hand if you want to minimize waste!
Once you get all your fabric pieces cut out, the sewing together part is fairly quick and easy due to the jumbo size blocks. Mine came together much quicker than I expected, and I ended up sending it to my favorite long arm quilter to do this fun design on it!
Now it's your turn – what size is your favorite Qube and WHY? Mine is definitely the 12″ Qube and you can see why here and here in some previous projects I have made with it!
Never miss a post! Be sure to subscribe to the newsletter and follow @homemadeemilyjane on Instagram.
Want more project inspiration? Here are a few popular posts: