Explore Quilt-A-Long: Week 7
Welcome back to the Explore Quilt-A-Long! If you are just now hearing about it, click this link to read all the initial details, find out how to get the Explore quilt and pillow pattern for FREE, and see the whole list of amazing prize sponsors!
We are now embarking on the final week of our quilt-a-long journey! This week we will be binding our quilts!
Week 7: Nov 14th – Nov 20th // Bind Your Quilt
This week is all about finishing all of our lovely quilts!
Binding the quilt for most people is either a LOVE or hate kind of thing. Personally, binding is my favorite step of the process! I like to use 2.5″ strips for my binding. I sew them together on the diagonal and then press them in half lenthwise. Next, I sew with my walking foot all around the quilt, leaving about a foot tail at the beginning.
Once I am close to sewing all the way around with the machine, I connect the two ends together with a diagonal seam and then press everything into place. I finish the machine sewing where I just joined the ends, and then flip the binding over and hand sew on the back.
The hand sewing stage is by far my favorite! I love the slow pace and careful, precise stitches. Some people prefer to sew their binding on entirely by machine and I have tried it this way too! I think either way is great as long as you enjoy it!
Here are some tips for you to keep in mind when finishing your quilt:
Finished is better than perfect. If you feel like you have fallen behind in the QAL, now is your time to catch up and finish strong with us!
Bind your quilt using whatever methods you prefer – there is no "right" or "wrong" way!
Be sure to take lots of finished photos of your quilt! Take photos of just the quilt, photos of you with the quilt, and get creative with it!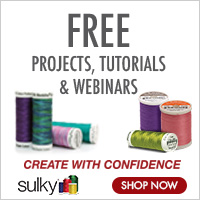 Who are the WEEK 6 Winners?
Project Wools Mats
The wool pressing mat from Project Wool Mats goes to @courtcrafts82! This pressing mat is amazing and a total game changer when it comes to perfect, flat seams in half the time! Purchase your own on Amazon HERE!
Oceans of Thread
The Alison Glass Layer Cake and coordinating Mettler Silk Finish thread go to @kaleigh207! Head over to www.oceansofthread.com and enter your email for a 15% off coupon when you shop online!

This Week's Quilt-A-Long Prizes
We have made it to the grand finale of our quilts which means we have the GRAND PRIZE this week! Really, we have TWO GRAND PRIZES!!!
To be eligible to win, you must post your photo showing your completed quilt to Instagram with the hashtag #ExploreQAL sometime from November 14th – 20th of your timezone. Make sure your account is public so I can see your post. I'll pick the winners the morning of Nov. 21st and announce them in the final Explore QAL Email!!
AccuQuilt Go! Me
One lucky winner will recieve their own AccuQuilt cutting machine!!
The AccuQuilt Go Me! Cutting machine is a smaller version of the Go! It is super portable and can be used with a wide variety of dies!
Click HERE to read all my thoughts about my own AccuQuilt Machine and CLICK HERE TO SHOP!
HUSQVARNA (R) VIKING (R) EMERALD 118
The amazing GRAND PRIZE for this Quilt-A-Long is sponsored by HUSQVARNA VIKING! One lucky winner will receive one of my favorite sewing machines – the EMERALD 118!
This sewing machine is an amazing work horse and lightweight enough for you to take it with to sewing groups and classes; I actually learned to sew on an EMERALD and still have the one my parents gave me for my 16th birthday! I would recommend this machine to anyone, which is why I'm so thrilled that I get to give one away!


Husqvarna Viking Emerald 118 Sewing Machine
Be sure to go check out everyone else's beautiful quilts on the hashtag #EXPLOREQAL. Comment on your faves, show the love, and make some new friends!

Thanks for reading and participating in this Quilt-A-Long! I will announce the winners of the grand prizes in the weekly email that I send to all QAL participants! Be sure to check your email to see if you are a winner and claim your prize!
Do you want to see my personal absolute favorite sewing notions and tools? Check out my Amazon favorites HERE. If you purchase through my site, I will get a small commission and am able to keep making cool stuff for you! Isn't that awesome?! Thanks in advance for supporting me!