Explore Quilt-A-Long: Week 3
Hi there Explore Quilt-A-Long quilters! Welcome back to the Explore Quilt-A-Long! If you are just now hearing about it, click this link to read all the initial details, find out how to get the Explore quilt and pillow pattern for FREE, and see the whole list of amazing prize sponsors!
We are just now starting Week 3, but if you have not yet started your quilt I just want to say that it is OK to start now! It'll be super quick to "catch up" to the Quilt-A-Long pace. Week 1 included picking out your fabrics and Week 2 was cutting them – both of which can be pretty quick!
Week 3: Oct 17th – 23rd // Make your Half Square Triangles
This week we will all be making our HSTs (Half Square Triangles) for the Explore Quilt-A-Long. If you have never made a half square triangle, this is a particularly great pattern to start with, and I am not just saying that because it is my pattern!
This pattern features just a handful of Half Square Triangle quilt blocks, so you can dip your toes in and see if the HST life is the life for you! I'll also point out that you don't have to nest any HST seams together, so if things are just a little less than perfect, it will not be as obvious in the finished quilt!
Here are some tips for making accurate Half Square Triangles (HSTs):
Mark your diagonal lines on the wrong side of whichever color it'll show up on more. Lately I've been using a Sewline water soluble pen that has been working wonderfully, but you can also use a pencil, a chalk pen, or even a heat-erasable pen like this one.
Watch out for directional prints! If you are making HSTs with directional prints and want them to all go the same direction in the quilt, pay very close attention to which way you sew the diagonal lines. It look me years of quilting to finally figure that part out, but as long as you are consistent with each one, you will be fine!
Sew a scant 1/4 inch on each side of the line – I like chain sew these, meaning I sew all of the blocks on one side, one right after the other, and then trim them apart and sew the other side of the line.
If your marking pen will not disappear with heat, I suggest giving each sewn square a quick press flat before slicing them apart on the diagonal. This just sets the seams and makes it a little easier to cut straight.
Check out my Amazon Storefront to see my favorite rulers, notions, and tools!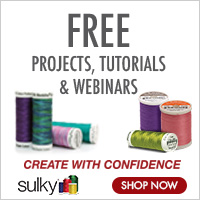 Who are the WEEK 2 Winners?
Miller's Dry Goods
The $30 gift card for Miller's Dry Goods goes to @cjmarlin! Not only does Miller's Dry Goods carry a great selection of fabric and notions, they are also one of my go-to shops for getting Perle cotton thread for hand quilting!
As a special bonus for any of my followers, you can use code HOMEMADEEMILYJANE to save 15% off select threads when you shop at www.millersdrygoods.com!

OttLite LED Lamp
The LED Crane Lamp with Clamp goes to @sew.darned.cute! Having sufficient lighting in your sewing space is crucial for accurate sewing and also making sure you don't strain your eyes. I have a few different OttLite lamps and could not live without them!
This Week's Quilt-A-Long Prizes
This is another week where we have TWO sponsors which means TWO prizes and TWO winners!
To be eligible to win, you must post your photo of your Half Square Triangles to Instagram with the hashtag #ExploreQAL sometime from Oct. 17th – Oct. 23rd of your timezone. Make sure your account is public so I can see your post. I'll pick the winner the morning of Oct. 24th!
Be sure to go check out everyone else's beautiful fabric pulls on the hashtag #EXPLOREQAL. Comment on your faves, show the love, and make some new friends!
Pineapple Fabrics
One lucky quilter will win a $40 gift card for Pineapple Fabrics! If you have never heard of Pineapple Fabrics you really have got to check them out here! This store makes super fun pre-cut kits and also carries one of my favorite brands of solid quilting cotton (Painter's Palette Solids).
Reliable OVO 150GT Portable Iron
I know if you have ever been to a quilting class, a quilt guild sew day, or sewing retreat you have wished you had your own little iron with you! The OVO 150 GT portable iron is the perfect solution, and I have one up for grabs!

Thanks for reading! Have fun making your HSTs; I can't wait to see them all over Instagram! I'll see you back here next week with pointers on piecing together your quilt top!
Do you want to see my personal absolute favorite sewing notions and tools? Check out my favorite tools & supplies HERE. If you purchase through my site, I will get a small commission and am able to keep making cool stuff for you! Isn't that awesome?! Thanks in advance for supporting me!