Everything You Need to Know About AccuQuilt Fabric Cutting Machines
Are you thinking of taking the plunge into the world of AccuQuilt fabric cutting machines? Do you want to spend way less time cutting fabric and spend more time actually sewing? I am here to help introduce you to AccuQuilt and answer all your fabric cutting machine questions!
AccuQuilt Cutting Machine Frequently Asked Questions
First off, lets begin with some FAQs about AccuQuilt in general. In this article I'll share my thoughts on all of these topics:
How does AccuQuilt compare to other systems?
I personally have both an AccuQuilt Go! and a Cricut Maker cutting system and they are both wonderful for different features! Because those are the two that I have, those are the key ones I can really speak to. I use my Cricut when I want to cut a complex shape only one (or maybe a few) times, but the AccuQuilt gets used for cutting out hundreds and hundreds and thousands of the same shapes for patchwork. While the Cricut Maker machines can cut fabric, I would not use it for cutting out all the pieces for a quilt as you can only cut one layer of fabric at a time and it can be very time consuming. (If you are looking for something to cut out very unique shapes, then cricut may be the way to go.)
Do AccuQuilt cutting machines actually save time?
I'll be honest with you, as I always promise to be, and say that when I first heard of AccuQuilt fabric cutting machines I really did think it was just something that would be a hassle to learn and end up collecting dust on the shelf – but BOY WAS I WRONG! I use my AccuQuilt for nearly every quilt I work on and am always finding new ways to use it to save me time while quilting. My personal favorite time-saving blocks are the Half Square Triangles and Flying Geese quilt blocks because I can completely skip the trimming step (which has always been my least favorite!) Find out all my Half Square Triangle secrets HERE.

Does the AccuQuilt machine help with Arthritis?
AccuQuilt cutting machines actually help a lot of people with a wide variety of health related issues that can get in the way of cutting. I've met people who use it due to poor eyesight, joint pain, back pain, shoulder pain, wrist pain, muscle weakness, etc. You name it, there's a good chance someone has tried to use AccuQuilt to solve the problem! Of course AccuQuilt won't heal your health problems, but it may make cutting your fabrics a bit less difficult than other methods.
Personally, I find my arthritic joints are much happier with me when I use my AccuQuilt, so if you struggle with aches and pains while cutting quilts the traditional way, I really recommend that you find a way to at least try out an AccuQuilt to see if it works better for your body.
Is buying an AccuQuilt machine necessary for quilting?
While I sometimes say that "I could never live without my AccuQuilt", I have to say that buying and/or using an AccuQuilt cutting machine is definitely NOT a necessity! Quilting is expensive already and I am a huge advocate for living within your means and making do with what we already have. I value the benefits of expressing creativity through crafts, quilts, and other hobbies. It is important to me that we do it in a way that fits each of our lifestyles and budgets. For many people, rotary blades and rulers are great tools to get the job done within budget!
Here are some low-cost options to consider if you want to use an AccuQuilt fabric cutting machine on your next quilting project:
See if a local quilt guild has one that they let members use
Find a nearby friend who has one and is willing to share
Reach out to your local quilt shops to ask if rent out time on their AccuQuilt machines
Join a group for die-trading so you can always have new fresh dies to use
Which AccuQuilt Fabric Cutting Machine is best?
AccuQuilt offers a few different machines, each with their own merits. I personally use the AccuQuilt Go! but here are some highlights of each model:
AccuQuilt Go! ME Fabric Cutter – Can cut up to 6 layers of fabric at a time. Can take many of the smaller dies from the AccuQuilt site, up to a 6″ die. Uses a crank handle to push dies & fabric through the machine. Smaller, lighter weight, and at a lower price point than the other models.
AccuQuilt Go! Fabric Cutter – Can cut up to 6 layers of fabric at a time. It is great for cutting most die sizes from the AccuQuilt site. Uses a crank handle to push dies & fabric through the machine (which can be hard on the wrists for some people, but does not rely on constant electricity which can also be a bonus)
AccuQuilt Go! BIG Electric Fabric Cutter – Can cut up to 6 layers of fabric at a time. It is great for cutting die sizes from the AccuQuilt site. Works electronically to rotate dies & fabric through the machine. This electric version is the best one for people with arthritis, joint pain, shoulder injuries, or other health related concerns that might make rotating the crank handle difficult on the other models.
AccuQuilt Studio 2 Fabric Cutter – Can cut up to 10 layers of fabric at a time! It originally designed for fabric shops making pre-cut quilt kits but is wonderful for home use if you have the space to set aside to leave it out. This one is known for being very sturdy and is compatible with more than 600 dies. One positive about the Studio Cutter is that the dies for it tend to go on sale more than the Go! dies.
To find a full, comprehensive comparison between all of AccuQuilt's current models, visit their website here.
Which AccuQuilt Dies should I start with?
To see tons of information about which AccuQuilt Go! dies are the best for beginners, watch this short video or visit this article:
The AccuQuilt dies that you choose will depend on which machine you get and what your preferences are for quilting. One thing I love about AccuQuilt is that the possibilities really are endless! They are constantly coming out with new dies nearly every month!
If you love traditional piecing or a lot of versatility in your quilt blocks, consider getting a Mix and Match Qube or a set of strips dies like this bundle.
If you love appliqué and fun designs, the options are so plentiful! You can browse all the adorable appliqué die options here.
If you are considering the AccuQuilt Studio 2 Fabric Cutter, check out these amazing die sets to get you started. You can also use the regular GO dies on the Studio if you get an adapter.
Do I need anything else besides the AccuQuilt Cutting Machine and Dies?
Yes – do not forget your mats! The mats do not come with all the dies, so you'll want to grab one (or a few) of those in your order as well. An exception to this is if you purchase a set of dies like the Qube, then it will come with one cutting mat for those dies. I recommend to have one mat for each size/shape of die that you have. Then, replace the mats as they get worn out.
What patterns can I use with AccuQuilt?
If you're looking for quilt patterns to use your AccuQuilt with, there are a ton of free patterns or AccuQuilt pattern books on the AccuQuilt website. Most of these patterns feature more traditional quilt blocks and come together to make block-based quilts.
If you are a more modern quilter and you want to see some fun, contemporary designs using AccuQuilt check out these Modern AccuQuilt Quilt Patterns.
Additionally, nearly any traditionally pieced pattern can be adapted to work with AccuQuilt dies! It may require a little bit more mental math but it's so worth it to be able to save time cutting the pieces! Check out my Vintage Lace Quilt to read how I used my AccuQuilt to make quilts from modern designer patterns.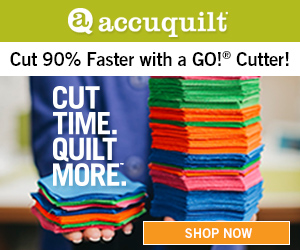 Can I design my own quilt patterns to use with AccuQuilt?
You can absolutely design your own quilt patterns very easily with AccuQuilt! AccuQuilt even has a software program to help you let your creativity run wild. Find out more about Go! Quilt here.
How do I reduce fabric waste with AccuQuilt?
Wasting fabric is bad on the budget and the environment. I do think using my AccuQuilt tends to use a tiny bit more fabric than traditional methods. But, I have found myself a really good system for feeding fabric through my machine without much excess at all!
Before feeding your fabric & dies through your AccuQuilt machine you will make "rough cuts" of your fabric. I like to make my rough cuts about 1/2″ wider than the shape on the die itself. I find that a 1/2″ is wide enough to provide some wiggle room but still skinny enough to limit the waste. Only teeny tiny scraps come out when I am done with cutting the shapes!
Now's Your Chance: Get Started with AccuQuilt
Are you ready to get started with your own fabric cutting machine? Most purchases for new cutting machines made through AccuQuilt.com also come with a 30-day risk free guarantee. I hope you get one and I hope you love yours as much as I love mine! Shop current AccuQuilt deals here.
See AccuQuilt in action in this fun video:
Never miss a post! Be sure to subscribe to the newsletter and follow @homemadeemilyjane on Instagram.
Want more project inspiration? Here are a few popular posts: